A very very HAPPY DIWALI to all my Indian readers.
Today is nothing but a regular weekday for us, no major celebration, no crackers ( as our county forbids us from using fireworks ), no holiday BUT good food----YES. I have been working my ass off preparing Indian sweet and savory delicacies. Will sure be doing the LAKSHMI PUJA at home only after Husband is back from work. Later we might ( if Ribhya crashes early) sit for some hookah puffs and a few rounds of cards ( all alcohol barred ) ...so a little celebration in our own little way.
All of this and another reason to celebrate, today is my 50th post on the blog. Isn't that unbelievable? I am so so thankful to everyone all around me for showing their love and encouragement which continuously inspires me to keep going with this.
SO THANK YOU ALL AND HAVE A SAFE AND HEALTHY DIWALI.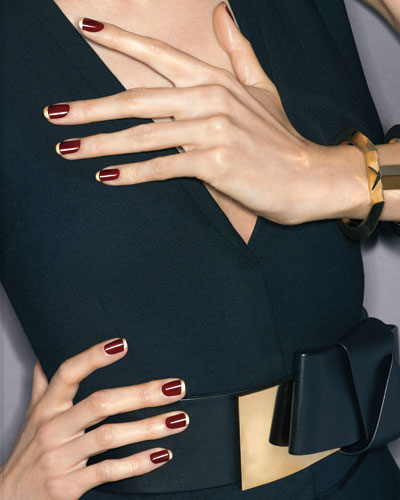 And for all the beauties out there, another fun, festive, flashy manicure for you all. I had seen this in one of the fashion magazines and since then my mind had been racing back and forth to try this for myself. So this is how it is done. Hope you like it !!
Apply base coat, then two coats of the rich burgundy color. Let it dry completely. The key to a good manicure is to let it dry, dry and dry. Once dry to touch , use a metallic color to create the French tip. Keep your hands resting on a table to avoid too much shaking while you paint the tips. I decided to paint the ring finger completely metallic, you could either do it or skip it. To get the two dots, use one of your hair pins with a round blob end, dip in the paint and put dots on any finger you like. You could replace the paint dots with some metallic small crystals if you like and have handy. When all completely dried finish with one layer of the top coat and admire.....LOL.
I have the original design for you from the Instyle magazine as mine did not come out that well because I slept on mine and it kind of got smudgy. Despite that, I would not mind sharing my take on the festive nails.